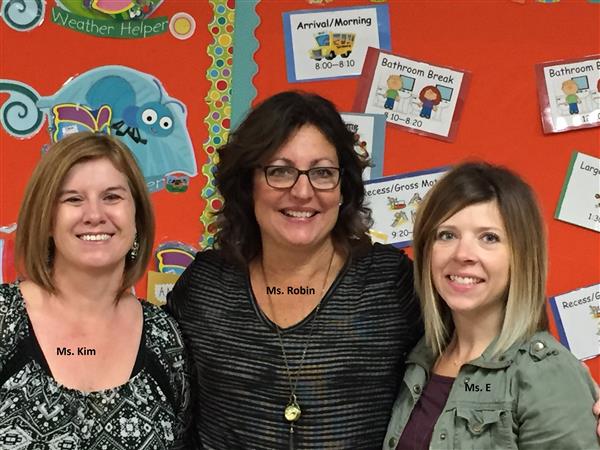 Phone: (618) 842-6501
Email:
Degrees and Certifications:
Pre-K Room 2

Greetings!

My name is Robin Atwood, children know me as Ms. Robin. I am a Pre-K teacher at North Side School. I have taught Preschool in Fairfield Dist. #112 for twenty five years and this will be my twenty seventh year as a teacher. I am certified to teach birth through ninth grade along with a master degree in administration. I am the mother of five children and nana to ten beautiful grandkids. My husband, Bill and I enjoy traveling and vintage automobiles.

Elizabeth Sanders, also known as Ms. E. has worked as a preschool paraprofessional for twelve years with me. She is an invaluable part of our classroom. Her husband, Justin is a teacher in District #112 and coach at the high school. Ms. E. enjoys exercising and spending time with her family.

Kim Hutchenson, also known as Ms. Kim is the newest member of our preschool team being hired this year. Ms. Kim is the special education paraprofessional in our classroom. Ms. Kim lives in Barnhill with her husband Colby. She has four children and one grandchild. Ms. Kim enjoys spending time outside and thrift shopping.